We're barely into February but I've already broken the bank on books. Here's a list of what I'm reading, planning to read and why.

Required Reading: The Book Club Pick


My friends and family don't have very similar bo
ok tastes so I joined a book club. I have until the 21st or so to finish and I am finding it a little slow going.
The Emperor's Children

by Claire Messud
is a very adult book, smart and literary and as a writer I can't help noticing her techniques and sentence structure. I look forward to hearing what the rest of the group says.


Semi-Required Reading: YA featuring Male Protagonists.



I'm currently working on a young adult proposal for an editor. I decided to make it interesting for myself and write it first person in a boy's, around 12-years-old, voice. It's actually going really well, at least I think so. I figured the smart thing to do would be to take a look at what's out there to make sure I get the tone, pacing and general structure right. Three are funny, Lisa Yee's

Stanford Wong Flunks Big Time

, David Luber's

Sleeping Freshman Never Lie

and

Storky

by D.L. Garfinkle. Chris Crutcher's

Sledding Hill

is a little heavier as it deals with death. Though my take on the whole thing is a bit darker, I'm hoping to sneak in some humor. I'm also hoping the editor likes it and buys it which will justify almost $60 in books I wouldn't have otherwise purchased.

Just For Fun: Three Impulse Purchase Novels

I've been in a bit of a reading just for fun slump for a few months so I was very happy when I found myself eagerly scouting the book store for something to read. These three caught my eye and attention for various reasons.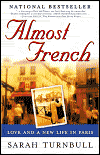 I have a fetish for Americans in Paris novels. When I saw

Almost French

by Sarah Turnbull and read the first page, I was hooked. Unfortunately, I've had to set it aside as my eyeballs have other obligations to keep them occupied for the near future.



My interest in Marisa de los Santos's

Love Walked In

is twofold. When the whole brainstorming was going on for my first cover, my editor sent me a jpeg of this and asked for my opinion. I thought it was very classic as well as being interesting. We didn't end up going in that direction, but when I saw the book on the shelf I immediately skimmed it, was intrigued and added it to my already full arms.



I used to read tons of romance novels as a teenager (that explains a lot doesn't it?) but wandered away from the genre as I grew older. But I'm still a sucker for a good historical drama and no one does them better than Phillipa Gregory. I really enjoyed The Other Boleyn Girl, which is going to be a movie and yes, I'm going to go see it, and I expect

The Constant Princesses

to be just as fun to read.